Frugal Living Blog
The Frugal Living Blog is my mini-journal about Frugal Living. It...
-- lets you know whenever new Web pages appear on Frugal-living-for-today.com
-- keeps you up-to-date with other postings on Frugal Living (like my latest meal plan for the month or a note of encouragement for when tight-budget-living gets you down!)
Subscribe to my RSS feed by clicking on the orange button on this page.
Growing vegetables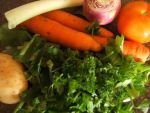 When growing vegetables you don't need to be a seasoned gardener. Growing your own vegetables is not only cost effective but also very rewarding.