Home School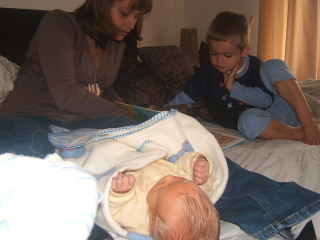 I am a huge fan of home schooling and I really think it is fantastic if you are able to home school your children.
Home schooling can be the cheaper option, depending on where you live and also curriculum chosen.
Here in South Africa we do not receive free education and therefore public schools and private schools (more so) are expensive.
Therefore here homeschooling can be cheaper because:

there's no school uniform
no time is wasted in traffic and you save on fuel at the same time!
and because you can use the same Curriculum material on all your children.

Schooling at home definitely can fit into a frugal lifestyle.
As I am not an expert on the subject I go to those who are:


Wendy and Shirley are very helpful and knowledgeable and I plan on drinking from their fountains of wisdom again and again and again.
Their Website Homeschool Curriculum For Life is a wonderful resource and I find myself going back there again and again for information and advice.

Even though my children will be going to school (I home school until their 7th year - I would love to home school all the way but sadly my husband doesn't support my decision to home school and he firmly believes that our children should go to school)
Fortunately I still have my youngest at home with me and I still enjoy schooling him.
I love doing all sorts of activities with my boys and Shirleys Preschool Activities has given me loads of inspiration and all kinds of preschool ideas and activities.

Another great resource I found is Moore Homeschooling. Judie Brown and her husband have 25 years' homeschooling experience, using the concepts of Raymond and Dorothy Moore. Being a Moore fan myself, I immediately fell in love with this site. Do yourself a favour and check it out!

If your kids are older, however and you are looking for information on some of the best programs, products and additional homeschooling curriculum, then Homeschool Curriculum For Life will be able to help you with that.
Okay...
...you now know what curriculum you are going to or are following and you are well on your way....
but now you need a bit of help on the "motor" or "engine" of your little homeschooling vehicle..
.....then I suggest that you bookmark Homeschool By Design for information on the academic side of things, games to teach, field trips, high school, life skills and much more.


I love being at home with my children and the thought of ever having to send them to a Crèche, send shivers down my spine.

I'm so glad I am able to be home with my children during their pre-school years.
And I plan on being there for them as much as I can and being an "involved" parent during their growing years and beyond!



Return from the home school page to the Frugal Living Home Page