Fast Meals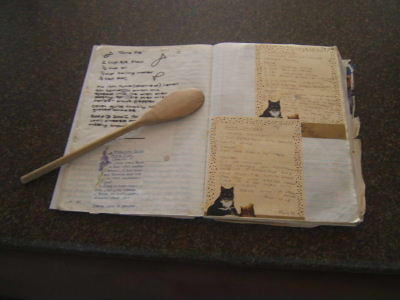 Sometimes, I really just don't feel like cooking but as a frugal family, Take Aways very very seldom is an option. So I have a few really quick meals up my sleeve, for days like this...
CHICKEN AND CORN POTATO BAKE
2 deboned cooked chicken breasts, finely chopped
6 large potatoes
2 red peppers, seeded and finely chopped
1 tsp of chopped, fresh garlic
1 tin of creamed corn
90g of cheddar cheese
1 tbsp of oil
5 tbsp of mayonnaise
2 tbsp of milk
Cook the potatoes until tender. Halve the potatoes and scoop the inside out leaving a bit of potato behind to help the shell remain firm.
Fry the red peppers and garlic till soft and add the chicken, mayonnaise, creamed corn and season well. Cook this for a further 5 minutes.
In the meantime, mash the potato and milk together and mix the above mixture into the mashed potatoes. Spoon it back into the potato skins and sprinkle generously with Cheddar cheese.
Place it under a grill and bake until the cheese is golden.
MACARONI CORNED BEEF BAKE
Thank you to Michelle Rothman, my friend in far away Switzerland, for this very economical recipe.
1/2 a packet of cooked macaroni
1 x can of corned beef, cut into cubes
1 x 410g tin of tomato and onion mix
50ml chutney
5ml dried oregano
50ml flour
5ml dried marjoram
500ml milk
12ml garlic salt
5ml dried ginger
salt and pepper
200ml grated cheese
In a large saucepan, heat the tomato and onion mix, chutney, herbs and spices, add the flour and stir. Slowly add the milk and stir until the mixture has thickened. Add the corned beef and stir. Add the cooked macaroni and spoon the mixture into a greased ovenproof dish. Sprinkle cheese on top and bake for 20 minutes at 180deg celsius.

QUICK VEGETABLE SOUP
40ml margarine
1 finely chopped onion
4 large potatoes, peeled and diced
3 cups mixed frozen vegetables (cubed)
4 cups vegetable stock
1 tbsp whole grain mustard
salt and pepper
1 cup strong cheddar cheese, grated
Fry the onion in the margarine until soft, add the potatoes and mixed vegetables, reduce the heat and cook for approximately 10 minutes until the vegetables are cooked. Add the stock and simmer for a further 20 minutes. Place the soup in a food blender until smooth, return to the saucepan and add the mustard, salt, pepper and cheese. Heat until the cheese has just melted and serve. Serves 4

MAYONNAISE CHICKEN
8 pieces of chicken
250ml mayonnaise
100ml brown sugar
250ml milk
Herbs and spices
salt
Season the chicken well with the salt and place the pieces in an ovenproof dish. Pour the milk into the dish and sprinkle herbs and spice of your choice on top. (I usually use marjoram, sweet basil and chicken spice). Generously spread mayonnaise on top of the chicken. Bake the chicken for 30 minutes at 200deg celsius. Turn the chicken and bake for a further 15 minutes. Turn it around again and sprinkle with brown sugar. Switch the grill on and grill the chicken for 5 - 10 minutes. Serve with rice and vegetables. Serves 4

CHUTNEY CHICKEN
8 pieces of chicken
250ml cream
300ml chutney
salt and pepper to taste
Season the chicken well with the salt and pepper and place the pieces in an ovenproof dish. Combine the cream and chutney and pour it over the chicken pieces. Bake it covered, for 45 minutes at 200deg celsius. Turn the chicken and bake it for a further 30 minutes. Remove the lid and stir sauce. Bake for another 15 minutes uncovered. Serve with rice and vegetables. Serves 4

CRUSTLESS QUICHE
250g chopped Vienna sausages
250g grated cheddar cheese
2 tbsp finely chopped onion
2 tsp dried parsley
2 tsp dry mustard powder
3 eggs
2 tbsp corn flour
250ml milk
2 rashers of bacon, finely chopped
salt and pepper to taste
Combine all the ingredients and bake for one hour at 150deg celsius.
CRUMBLY BROCOLLI
1 cooked, deboned chicken
1/2 a packet of frozen brocolli florets or 500g fresh brocolli
1 tin cream of mushroom soup or cream of chicken soup
1 generous cup of dried bread crumbs
1 cup mayonnaise
fresh lemon juice of half a lemon
1 tsp each of dried mustard powder and curry powder
2 Tbsp margarine
1 cup grated cheddar cheese
Place the chicken meat and brocolli in an oven proof casserole dish. Mix the mayonnaise, soup, mustard, curry and lemon juice together and pour this over the chicken. Sprinkle with the dried bread crumbs and cheese and dot the top with the margarine. Bake it at 180 C for about 40 minutes and enjoy!

PEANUT BRITTLE
This is great to keep for those nights after supper when you really crave something sweet plus it is so easy to make.
375ml (150g) unsalted peanuts
1 cup of sugar
1/2 cup of golden syrup
pinch of salt
30g margarine
5ml vanilla essence
10ml bicarbonate of soda
Place the peanut, golden syrup, salt and sugar in a microwable bowl. Microwave on high for four minutes, remove from the oven and stir until the sugar has completely dissolved. Microwave it on high for three minutes. Add the margarine and vanilla essence and microwave it again on high for three minutes. Stir in the bicarb and stir until light, pour it into a greased tray and spread the mixture with a wooden spoon. Once cooled, break it into pieces.


Return from the fast meals page to the Frugal Living Home Page