The Frugal menu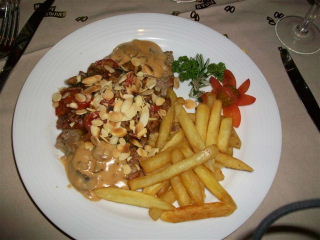 Eating frugally is very important, if you want to maintain your frugal lifestyle.
Recipe ingredients can end up being very expensive, this is why I've decided to help you a little each month.
Here's a sneak peak onto our dinner table. Here's what's on our menu this month...
The recipes for all dishes marked with an * are found below each week.


WEEK DAY DINNERS (week 1)


Roast chicken*

Baked potatoes

Butternut and mixed vegetables




Mash

Peas

Beef sausage cooked under the oven grill or fried in a frying pan




Cottage pie*

Green salad




Stew*

rice




Fish fingers baked in the oven

French fries




WEEKEND DINNERS (week 1)



Saturday

Breakfast:
Fried egg on toast


Dinner:
Snackwich with your favourite filling.

We love

bacon, banana and cheese
cheese and tomato
chicken and mayonnaise

Sunday


Breakfast:

Cooked porridge


Dinner:

Vetkoek* with jam and cheese or savoury mince*
---
ROAST CHICKEN (pieces)
8 chicken pieces
Barbeque spice
100ml fine dry breadcrumbs/flour
Generously sprinkle the chicken pieces with the barbeque spice and roll the chicken in the breadcrumbs or flour. Place on rack or roasting pan, grill under preheated griller, approximately 10 minutes on each side or until tender. Season to taste.

COTTAGE PIE
My husband is not fond of vegetables but unbeknown to him this dish is full of veggies. My secret? I liquidise my vegetables before adding it to the mince.
30g margarine
500g mince
1 chopped onion
1/2 cup of tomato sauce
1 x 425g tinned chopped tomatoes
2tsp of crushed garlic
40ml of stock (meat or vegetable)
3/4 cup of cooked mixed vegetables, liquidised
2 large potatoes, cooked and mashed
30g margarine
2 Tbsp of milk
Heat a little bit of oil in a frying pan and brown the mince, breaking up any lumps with a fork and set aside. Add the margarine and fry the onionuntil soft. Return the meat to the pan and add the tomato sauce, garlic, tomatoes and stock and mix it well. Reduce the heat and simmer for approximately15 - 20 minutes or until mixture has thickened and liquid reduced. Add the cooked vegetables and remove from heat. Add the margarine and milk to the mashed potatoes while still hot and season with salt and pepper. Spoon the mince into an ovenproof dish and spread the mashed potato on top. Bake for 25 minutes at 180deg celsius. Serves 4

CREAMY STEW

45ml Oil
500g beef or pork stewing meat, cut into strips
2 onions, quartered
2 peeled carrots, roughly chopped
2 peeled potatoes, roughly chopped
1 cup frozen peas
2 tsp crushed garlic
200ml red wine / beef stock
1 cup sour cream
5ml corn flour
Salt and pepper
Brown the meat in batches in 30ml of oil over high heat and set aside. In the mean time, cook the potatoes, carrots and peas in salt water until just tender. Fry the onions in the remaining oil until soft, add the garlic and cook for about 1 minute before adding the potato and carrot. Add the wine and bring to a boil. Reduce the heat and simmer for approximately 8 minutes. Return the meat to the dish and add the sour cream. Simmer for 5 minutes. Mix the corn flour in a little water and add it to the stew. Stir until thickened. Season to taste. Serves 4

VETKOEK
This is a much loved South African dish.

1 cup cake flour
5ml baking powder
2.5ml salt
1 beaten egg
1/2 cup of milk
oil for deep frying

Sift all the dry ingredients together. Add the egg and enough milk to form a limp dough. Heat the oil and add spoon fulls of dough into the oil and bakeuntil golden brown on both side.
SAVOURY MINCE
4 tsp of oil
30g margarine
500g mince
1 finely chopped onion
1 grated carrot
1/3 cup of tomato sauce
1/3 cup of beef or chicken stock
1 tsp of dry mustard powder
10ml dried parsley
2 tsp crushed garlic
Heat 2tsp of oil and half the margarine in a frying pan and brown the mince, breaking up any lumps with a fork and set aside. Add the remaining margarineand 2tsp of oil to the pan and fry the onion until soft. Return the meat to the pan add the carrot, mustard, garlic, tomato sauce and stock. Reduce theheat and simmer for 12 minutes or until mixture has thickened and liquid reduced. Add the parsley and season to taste. Serve with French toast, couscous, potato skins or mixed with a cheese sauce as filling in pancakes. Serves 4

---
Did you enjoy dinner? Then you'll also enjoy week 2.


Return from this month's meal plan week 1 to the Frugal Living Home Page