Dessert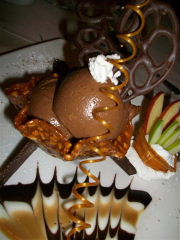 PEAR CRUMBLE PUDDING
650g tinned pear (12oz)
100g brown sugar (2oz)
100g flour (2oz)
80g margarine (1 1/2 oz)
50g oats (1oz)
4 Tbsp sunflower seeds
1 tsp ground cinnamon
Preheat the oven, 180deg Celsius (350deg F). Place pear in an ovenproof dish with 50g of the brown sugar. Cook for 10 minutes.
Prepare topping: mix remaining ingredients in a bowl. Rub margarine in with fingertips until it resembles fine breadcrumbs. Spoon mixture over pear and return to oven. Cook for a further 25 minutes. Serves: 6

BANANA LOAF
300ml hot tea (1/2 pint)
200g unpeeled bananas
100g brown sugar (4oz)
225g self raising flour (8oz)
1 tsp bicarbonate of soda
1 tsp ground cinnamon
Preheat the oven, 180deg Celsius (350deg F). Grease a loaf tin (line the base with greaseproof paper).
Peel and mash the banana. Add all the dry ingredients. Add the tea and mix thoroughly. Spoon into the tin and cook for 1 hour or until a knife comes out clean when inserting into loaf. Leave to cool before turning loaf out.

COFFEE CREAMER FRIDGE CAKE
1 Packet (200g) tennis biscuits
100ml melted butter
250ml (1 cup) coffee creamer
250ml boiled water
125ml lemon juice
1 tin of condensed milk
Spray non-stick food spray on a pie dish or rub the inside thoroughly with soft margarine. Crush the tennis biscuits in a food processor and combine with melted butter. Spread evenly in the pie dish. Mix the coffee creamer and boiled water together, add the lemon juice and condensed milk and beat mixture until it slightly thickens. Pour it over the biscuit crust and cool mixture until it sets.
BREAD PUDDING
3 eggs, of which 2 must be separated
375ml warm milk
60ml sugar
5ml vanilla extract
30ml icing sugar
2 thick white bread slices
100ml apricot jam
Whisk one whole egg and 2 egg yolks; add milk, sugar and vanilla extract. Mix thoroughly. Break the bread into small pieces and place it in an ovenproof dish. Pour egg mixture over the bread and mix. Place the dish in a bowl of shallow water and bake at 180deg Celsius for 30 minutes until set. Spread the apricot jam over the egg mixture. Mix the egg whites until stiff and add icing sugar slowly. Spread it over the jam and bake for a further 6 minutes at 200deg Celsius until meringue changes colour.
Serve with raisin sauce: Boil 100ml raisins in 250ml water. Add 125ml soft brown sugar and 20ml lemon juice. Simmer for a few minutes until sugar has dissolved. Thicken sauce with corn flour and water.

LEMON MERANGUE
1 tin of Condensed Milk
125ml lemon juice
pinch of salt
2 eggs, separated
2 Tbsp melted butter
1/2 packet of tennis biscuits.
Spray non-stick food spray on a pie dish or rub the inside thoroughly with soft margarine. Crush the tennis biscuits in a food processor and combine with melted butter. Spread evenly in the pie dish. Beat the egg yolks together. Add condensed milk and lemon juice and stir well and pour mixture over the crust. Sprinkle a corn flour over (this prevents the meringue from pulling away from mixture and sides). Beat the egg whites until stiff, add 6 Tbsp to the mixture slowly and beat mixture until stiff and shiny. Spoon it over the condensed milk mixture. Bake for 30 minutes at 160deg Celsius.

PEAR WITH CRUMBLE TOPPING
2 x 410g tin pears
5ml cinnamon
15ml lemon juice
1 packet tennis biscuits
50ml coconut
50ml brown sugar
50ml melted butter
Place pear in a bowl and sprinkle cinnamon and lemon juice over. Mix and place pear mixture in a dish. Place the tennis biscuits in a food processor and crush. Add coconut and sugar and mix. Add melted butter in a thin stream and mix until crumbling. Add pear and bake for 20 minutes at 200deg celsius. Serves: 6 - 8
BANANA PUDDING
1 egg
60ml sugar
25ml melted butter
60ml cake flour
15ml baking powder
190ml milk
3 bananas
Caramel condensed milk
Thinly slice the banana and place the slices in an ovenproof dish. Beat egg in a mixing bowl and slowly add sugar. Add melted butter and mix. Sift flour and baking powder and add with milk to egg mixture. Mix till smooth. Pour into an ovenproof dish and bake for 25 minutes at 180deg celsius or till cooked. Melt 100ml caramel condensed milk in 100ml boiling water and pour over pudding. Serves: 4
CARAMEL SAUCE
This is delicious with ice-cream and bananas.
10ml butter
125ml sugar
300ml milk
2ml salt
10ml custard powder
2ml vanilla extract
Melt butter and sugar in a pan. Boil until sugar slightly changes colour. Add 250ml milk and salt and boil over low heat until caramelised sugar dissolves. Thicken the sauce with a paste made from 50ml milk and custard powder. Add vanilla extract to flavour it.

MARS BAR SAUCE
This is my personal favourite. Also because it is so easy to make.
Melt 2 Mars bars over medium heat, add milk until it reaches the consistency you require. Pour over ice-cream.

DATE AND BRAN MUFFINS
500ml flour 10ml bicarbonate of soda
375ml bran 250ml chopped dates
250ml sugar 2 eggs
1/2tsp salt 125ml oil
5ml baking powder
375ml milk
Mix all dry ingredients together. Mix together eggs, oil and milk and pour it over the dry ingredients. Mix thoroughly. Add dates and pour mixture into buttered muffin tins. Bake at 180deg celsius for 15 minutes.



Return from dessert recipes page to the Frugal recipe page Return from the dessert recipes page to the Frugal Living Home Page