Homemade Christmas Cake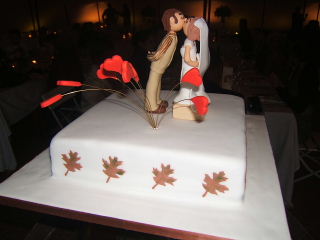 Make your very own Christmas Cake

I love these recipes.
You can use the first recipe to make your own delicious homemade Christmas Cake or use small tins and make miniature Christmas cakes as gifts.
The second beer box cake is HUGE and can be divided into smaller squares, decorated and wrapped in cellophane as Christmas gifts for friends and family.
Basic Christmas Cake
1/2 cup seedless raisins
1/2 cup water
1 Tbsp flour
1 Tbsp water
1/8 tsp ground cloves
1/8 tsp ground cinnamon
1 tsp lemon juice
2 eggs lightly beaten
1/4 cup milk
1 & 3/4 cup flour
2 tsp baking powder
3/4 cup sugar
1/4 tsp salt
2/5 cup margarine or butter
chopped nuts

Line your cake tin well with 3 layers or wax paper and also spread some margarine or oil on top of the paper to prevent the cake from sticking.
Place the raisins in water and boil it for 2 minutes. Add the flour mixed with a tablespoon of water gradually and stir until the mixture thickens.
Add the lemon juice and spices and leave the mixture until it has cooled down.
Mix the raisin mixture with the eggs and milk. Meanwhile sift the flour, baking powder, sugar and salt and rub the margarine in with your fingers.
Make a well in the centre of the dough and add the raisin mixture to it. Mix it until combined. Spoon the mixture into your baking tin and bake
it at 190deg C for 25 minutes.
Tip the cake out of the tin, pour glazing and chopped nuts over the cake and return it to the oven for a few minutes.
To make the glaze icing :
Mix 1/2 a cup of icing sugar with enough boiling water to make it slightly runny, but not too thin.
Beer Box Christmas Cake

Bake this cake in a beer box and once cooked cut it into smaller cakes to use as Christmas gifts
Beer box
Foil
Butter
6 cups seedless raisins
4 cups sultanas
3 cups glace fruit mix
2 cups roughly chopped pecan nuts / mixed nuts
3/4 cup citrus marmalade
zest of 2 lemons
1 brick of margarine
2 tsp vanilla essence
1 cup brandy (optional)
2 cups brown sugar
8 eggs
4 cups flour
3 tsp ginger
2 tsp cinnamon
3 tsp all spice

Cover a beer box with foil on the inside as well as on the outside - make sure it is well lined and then grease it very well with butter.
Mix all the fruit, nuts, marmalade, vanilla and brandy in a bowl - cover it with plastic wrap and set aside for about 1 hour.
Mix the flour and spice together in a bowl and set aside.
Cream the margarine in a separate bowl until smooth, add the sugar and mix it into the margarine slightly before adding the eggs slowly one by one - mix it very well each time. Add this to the fruit mix and combine it well.
Hold a sieve over the fruit and egg mixture, sift the flour and spice over it and mix it really well.
Spoon it into the prepared beer box and smooth it out carefully with a wooden spoon before placing it in the oven.
Bake it for 3, 5 - 4 hours at 140deg Celsius
The top can burn quite easily so it is advisable to cover it loosely with foil half way through the baking time.
To test if it is cooked through, use a skewer - if it comes out clean, it is ready but if not cook it for a bit longer (about 20 more minutes).
Remove it from the oven and allow it to cool completely. Cut it into smaller squares and decorate each Christmas cake to make a unique home made gift for friends and family.
This cake can be frozen for about 6 months or stored in the fridge for weeks (cover it tightly with foil before covering it in plastic wrap).
Royal Icing
1 egg white
3 cups icing sugar
1/2 tsp Almond essence
Whisk all the ingredients together - you may need to add more water or more icing sugar depending on whether it is too stodgy or too runny until you have a piping consistency. Scoop it into a piping bag with a thin nozzle and pipe your Christmas cake.
Another great idea : Place a paper doily on top of each little Christmas cake. Paint a bit of water over the surface in order to wet the cake's surface. Now take a sieve and dust the surface liberally with icing sugar. Carefully remove the doily and wrap a pretty ribbon around the cake.


---
Return from Christmas Cake page to the Frugal Living Home