How to Grow Herbs
Rosemary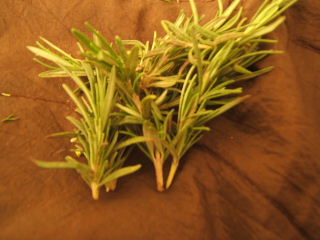 Rosemary is best grown from cuttings planted in moist soil. Plant cutting as long as your thumb, 50cm apart in full sun.
Rosemary enhances the growth of cabbage, carrots and beans as it repels snails, cabbage worm and carrot flies.

Here's an idea: Why don't you grow loads Rosemary right around your veggie garden - this way it will form a protective hedge that will keep unwanted "guests" like slugs, snails and other unwelcome insects away.



As a Kitchen Herb

I use Rosemary whenever I make a roast (which is only on very, very special occasions) and whenever I roast veggies in the oven.
I have even added it to stir fries! But don't forget to remove it before serving the dish...
... a mouthful of rosemary is not very pleasant tasting. (o:
Another great idea: Here in South Africa we love our braais (known as a barbeque in other parts of the world). Use Rosemary twigs as skewers and place a mixture of marinated pieces of meat and veggies (chunks of green or red peppers, mushrooms, baby onion halves etc) on these twigs. Place it on the barbeque or under a medium grill for delicious results. Where I live in sunny South Africa, we call this a sosatie.
As Medicinal Herb

Rosemary is amazing and good for a range of problems. Most herbalists would recommend it for circulation and blood pressure problems, head aches, arthritis and rheumatism. The usual dosage is a cup of Rosemary tea once a day for no more than 10 days.

Make the tea by adding 1 cup of boiled water to a sprig of Rosemary as long as your thumb. Let it steep for 5 minutes, sweeten with a bit of honey and sip slowly.


If you like this page, then you may also like to learn how to grow your own
Chives ,
Mint ,
Oregano ,
Paprika ,
Parsley ,
Thyme and
Lavender.


Return from the Rosemary page to the Growing Herbs Page

Return from the Rosemary page to the Frugal Living Home